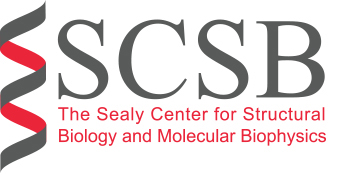 Mission
Our mission is to unlock the basic relationships between macromolecular sequence, structure and function, and to understand and treat disease. This mission is pursued through a three-fold strategy that involves:
conduct basic research in the fields of structural, physical, and quantitative biology;
train investigators in molecular biophysics, and structural and computational biology;
and partner with complementary research efforts on campus to foster mutual scientific goals and to build translational research programs.
Employment Opportunities
Faculty Positions

The Center currently has no open faculty positions.

Postdoctoral Fellow Positions

Postdoc position openings in these research groups:

An NIH-funded Post-doctoral fellowship position is available at the University of Texas (UTMB) located in the greater Houston area in the research team of Dr. Gabrielle Rudenko. We study the protein interaction network at synapses (the contact and communication point between neurons in neural circuits), and processes that control synapse development. Many of our proteins of interest serve as potential novel therapeutic targets for neurological disorders. The ideal candidate will be an enthusiastic and dynamic structural biologist with experience in biochemistry, crystallography and/or cryoEM who is interested in combining the fields of structural biology and neuroscience.

Qualifications: Experience in protein crystallography, molecular biology, bacterial/insect cell culture, protein purification, crystallization and biophysical techniques. Good written and oral communication skills in English. Ability and desire to work as part of a highly motivated and collaborative team.

To apply, please e-mail the following to garudenk@utmb.edu: CV, contact information for three references (address, phone and e-mail), a list of your experimental expertise and skills relevant to this position. Visa sponsorship is available for non-US nationals. You must have received you PhD degree to be eligible. For more information please visit Dr. Gabrielle Rudenko's website.

For more information please visit Dr. Guy Nir's website.